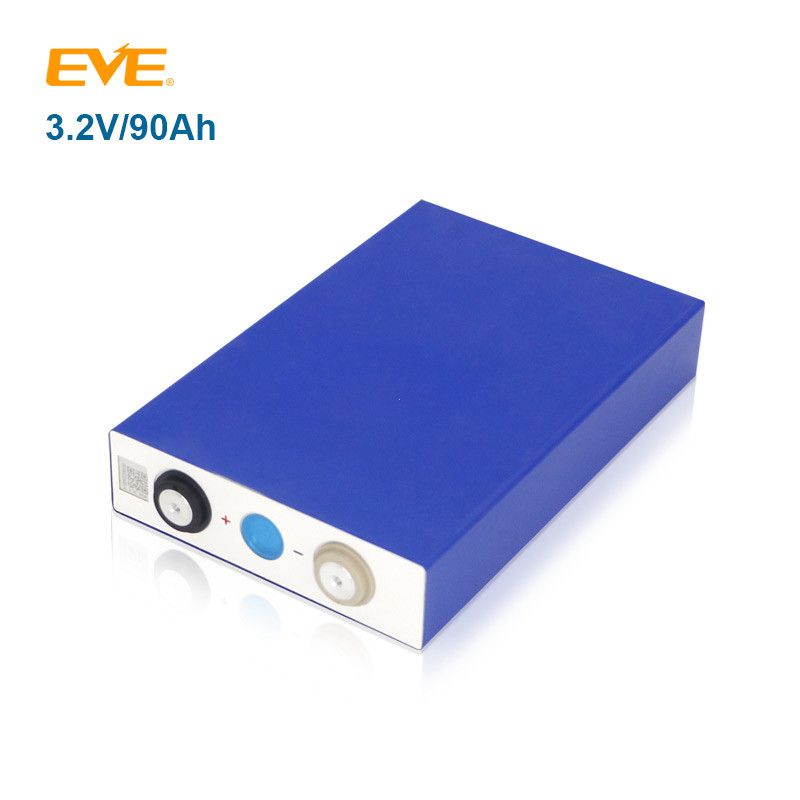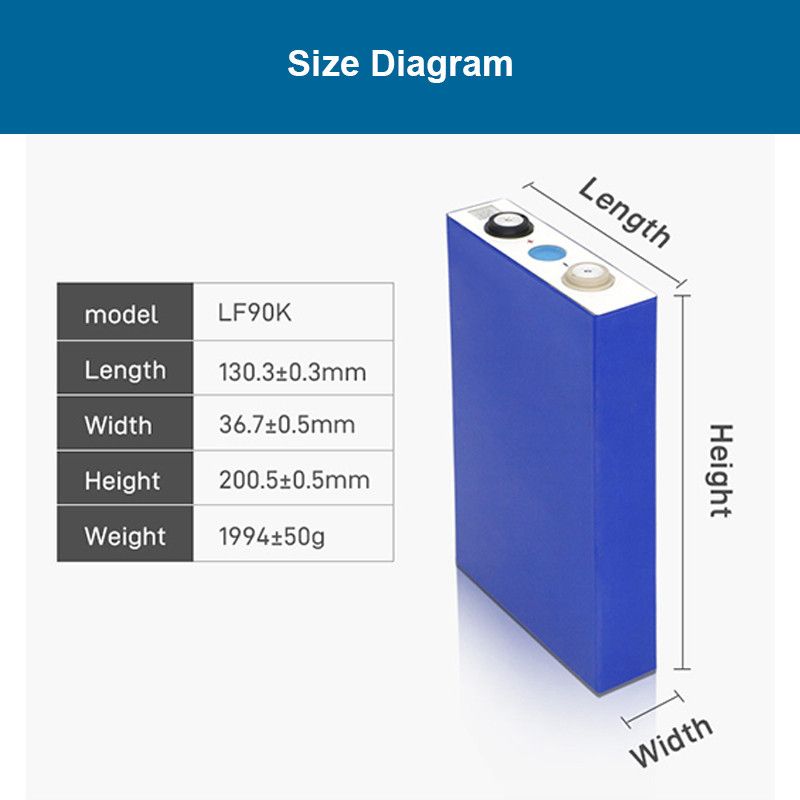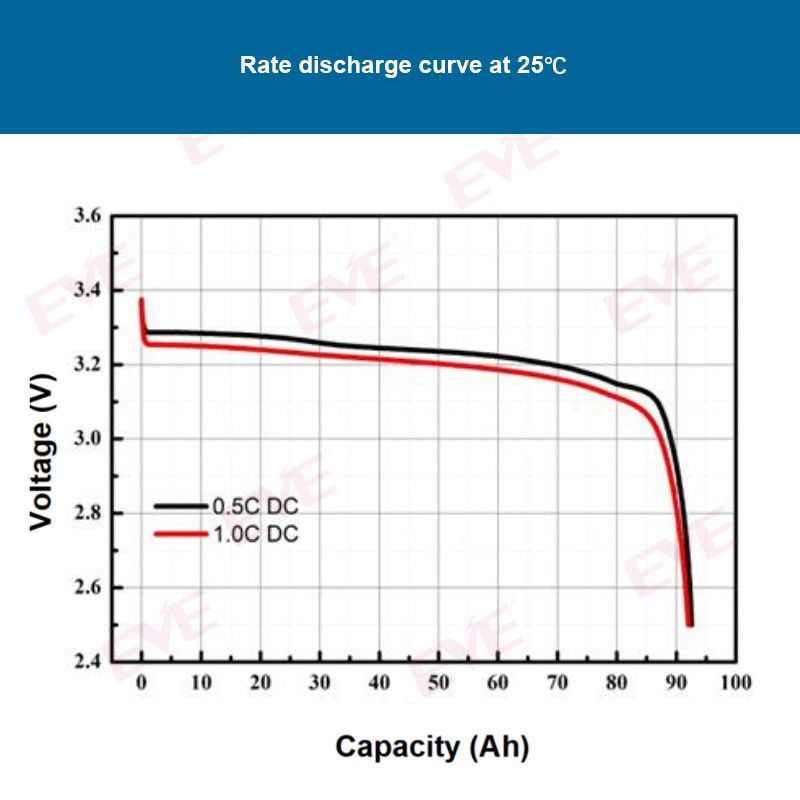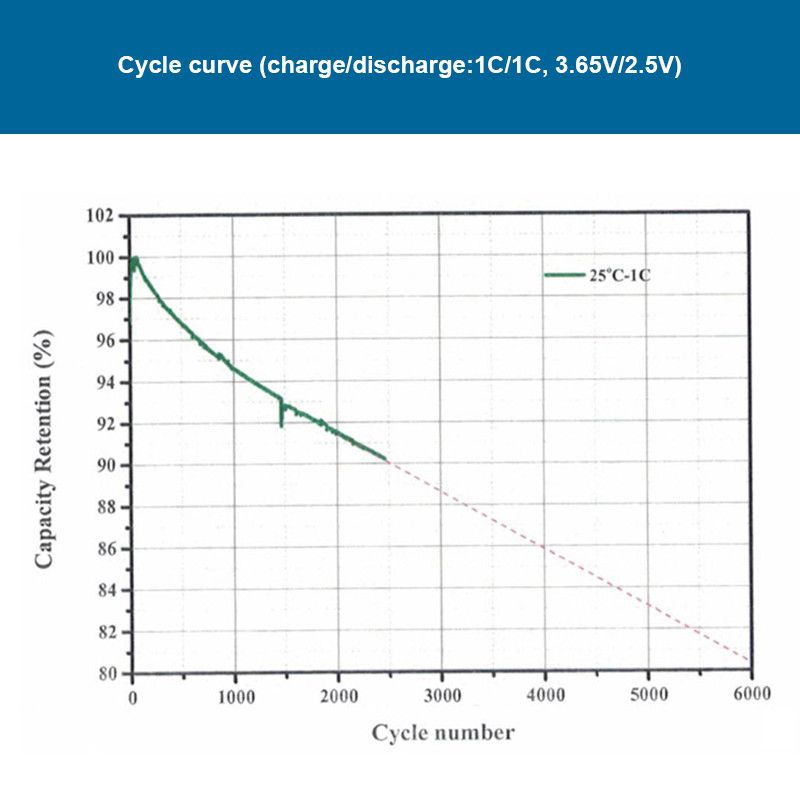 EVE 3.2V 90Ah LiFePO4 Battery Cell Fast Charge Version
Specifications (Verified)
Gobel Power technician has verified the accuracy of following technical parameters according to manufacturer's data sheet. Gobel Power gurrantees the product is authentic.
---
Manufacturer:

EVE
Model No.:

LF90K
Typical Voltage:

3.2V
Typical Capacity:

90Ah
AC Impedance Resistance:

≤0.7mΩ
Life Cycle:

6000
Standard Charge/Discharge Current:

1C/1C
Standard Charge Cut-off Voltage:

3.65V
Standard Discharge Cut-off Voltage:

2.5V
Continuous Charge/Discharge Current:

2C/2C
Pulse Charge/Discharge Current (60s):

3C/3C
Recommended SOC Window:

10%~90%
Charging Working Temperature:

0℃~55℃
Discharging Working Temperature:

-20℃~55℃
Self Discharging Rate:
Short Term Storage Temperature (< 1 Month):

-20℃~45℃
Long Term Storage Temperature (< 1 Year):

0℃~35℃
Storage Moisture:

<95%
Cell Dimension:

200*38*130mm
Cell Weight:

1994g
Certification:

UL, MSDS, UN38.3, CE
Manufacturer Introduction
---
EVE Energy Co., Ltd. (hereinafter referred to as EVE) is a China-based company principally engaged in the development, manufacture and distribution of battery products. The Company's main products include lithium primary batteries, lithium ion batteries and electronic cigarettes, among others. Established in 2001, EVE was first listed on Shenzhen GEM in 2009 (Stock code: 300014). After 20 years of rapid development, EVE is now a global lithium battery company which possesses core technologies and solutions for consumer, power, IoT and renewable applications.
---
Sea Freight shipping for all batteries
Free Tax, we have paid tax for you
Spareparts can be shipped by UPS/DHL
Paypal
Credit Card
Bank Transfer
Wholesale or OEM?
Chat with Our Experts in WhatApp
---
EVE 3.2V 90Ah LiFePO4 Battery Cell Fast Charge Version
About Us
Gobel Power was established in 2012 and is based in Shenzhen, China. Our products and services include wholesaling cylindrical & prismatic LiFePO4 and Lithium Ion battery cells, producing lithium battery packs and providing battery solutions. Our products are mainly used in solar energy storage, electric bikes, electric scooters, electric motorbike, boats, forklifts, sweepers, golf carts, and recreational vehicles.
Contact Us