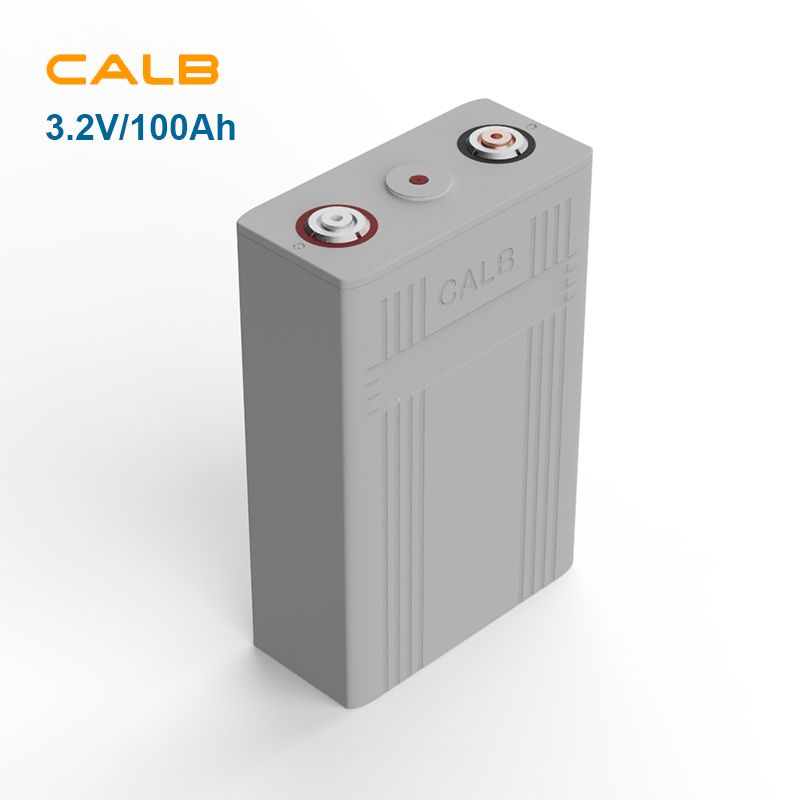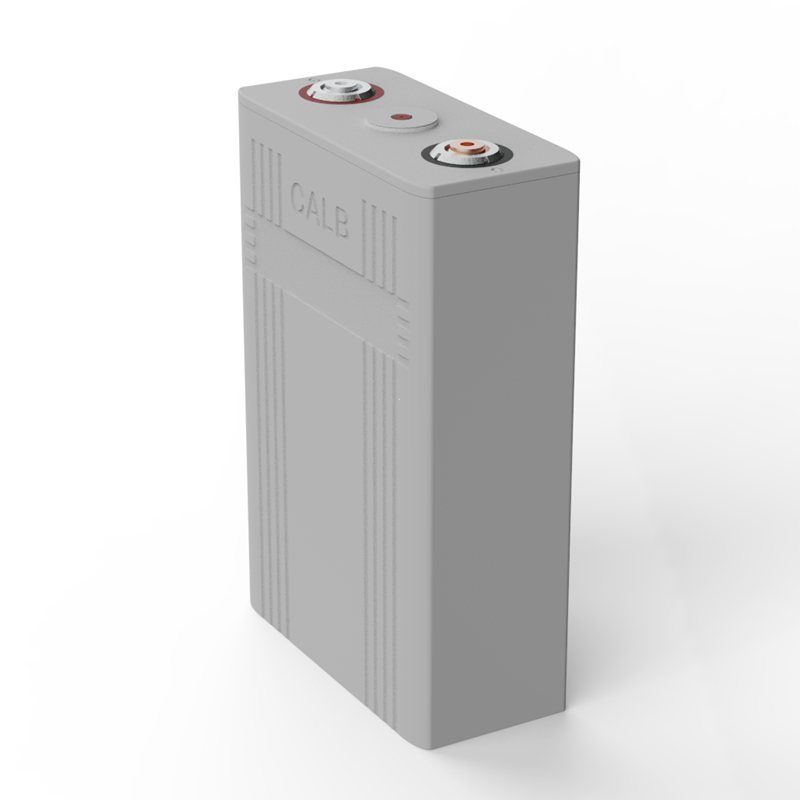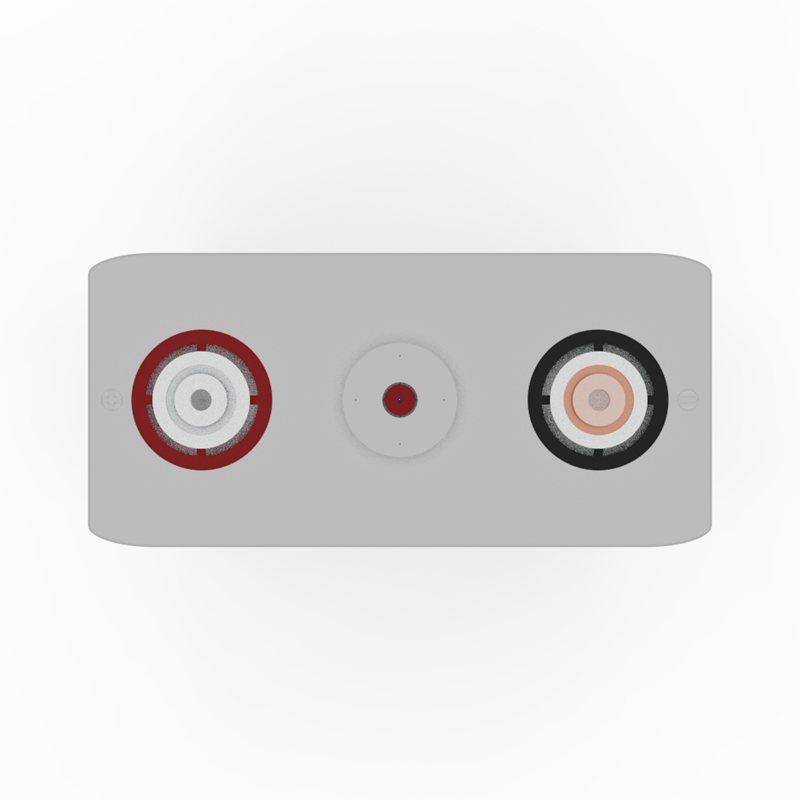 CALB 3.2V 100Ah LiFePO4 Lithium Battery Cell Wholesale
Specifications (Verified)
Gobel Power technician has verified the accuracy of following technical parameters according to manufacturer's data sheet. Gobel Power gurrantees the product is authentic.
---
Manufacturer:

CALB
Model No.:

CALB100
Typical Voltage:

3.2V
Typical Capacity:

100Ah
AC Impedance Resistance:

0.9mΩ
Life Cycle:
Standard Charge/Discharge Current:

0.5C/0.5C
Standard Charge Cut-off Voltage:

3.65V
Standard Discharge Cut-off Voltage:

2.5V
Continuous Charge/Discharge Current:

1C/2C
Pulse Charge/Discharge Current (30s):
Recommended SOC Window:

10%~90%
Charging Working Temperature:

0℃~45℃
Discharging Working Temperature:

-20℃~55℃
Self Discharging Rate:

≤5% per Month
Short Term Storage Temperature (< 1 Month):

-20℃~45℃
Long Term Storage Temperature (< Year):

-20℃~25℃
Storage Moisture:

<95%
Cell Dimension:

215*142*67mm
Cell Weight:

3.4kg
Certification:

UL, MSDS, UN38.3, CE
Manufacturer Introduction
---
CALB (Zhong Hang) is the world's leading new energy technology enterprise, committed to becoming an energy value creator, providing the most valuable power and energy storage battery product solutions and high-quality energy storage battery products for the world's outstanding automobile companies, energy storage and special application markets. New energy full life cycle services. Taking "long life, high energy density, high safety, full climate, standardization, and strong scalability" as the core product competitiveness, it fully covers the fields of pure electric buses, commuter vehicles, logistics vehicles, construction machinery, etc., and has a wide range of models. It is applied to multiple application scenarios such as high temperature and high humidity, remote plateau, high cold and low pressure, and the delivery volume is industry-leading. Taking "high safety, long life, high economic efficiency, and high integration rate" as the core product competitiveness, we provide customers with energy storage integrated system services that meet various needs, fully covering power generation side wind and solar storage, grid side peak regulation and frequency regulation, user Application fields such as side shaving peak and valley filling, backup power supply and marine energy storage. As the first batch of energy storage demonstration projects in the country, the energy storage products delivered by AVIC Lithium have been widely used in various scenarios such as offshore islands, remote plateaus, high cold and low pressure, and the total installed capacity of energy storage projects leads the industry.
---
Sea Freight shipping for all batteries
Free Tax, we have paid tax for you
Spareparts can be shipped by UPS/DHL
Paypal
Credit Card
Bank Transfer
Wholesale or OEM?
Chat with Our Experts in WhatApp
---
CALB 3.2V 100Ah LiFePO4 Battery Cell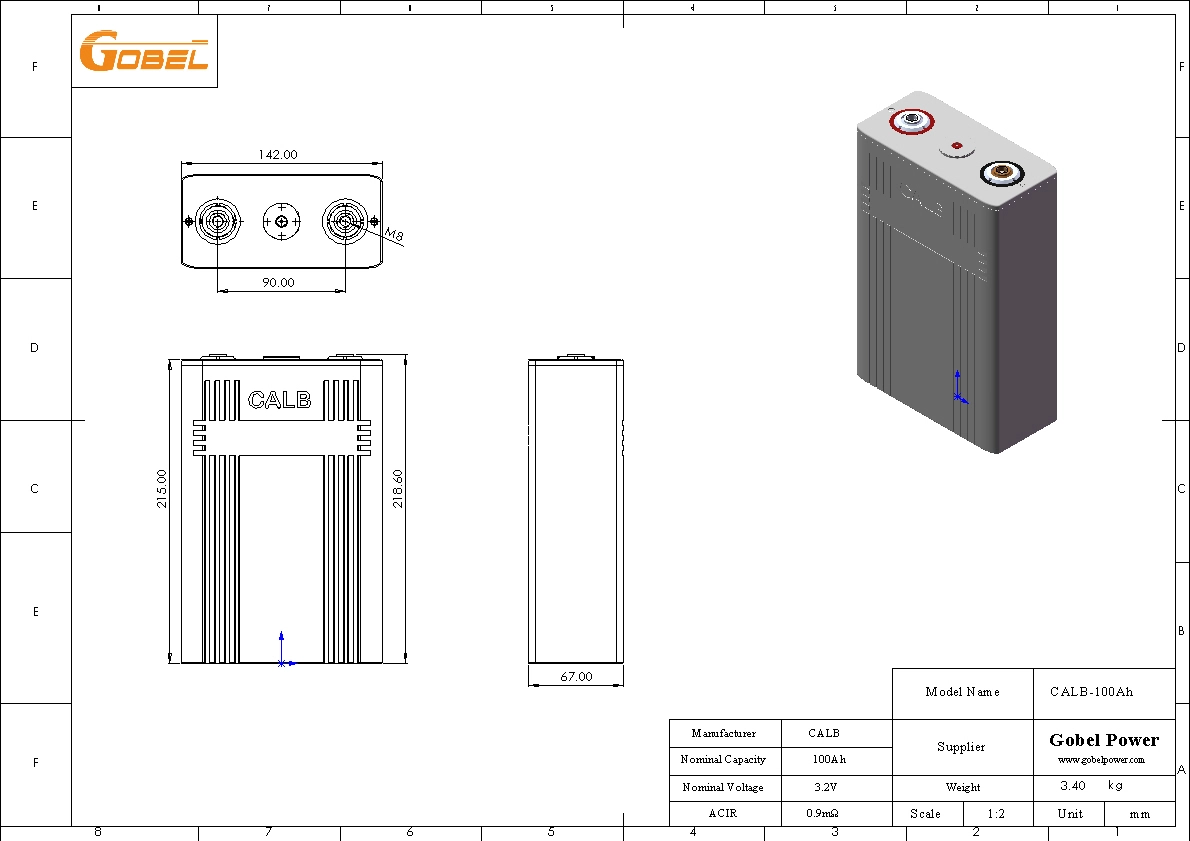 CALB 100Ah LiFePO4 Battery Cell CAD Drawing with Dimensions and Main Parameters
About Us
Gobel Power was established in 2012 and is based in Shenzhen, China. Our products and services include wholesaling cylindrical & prismatic LiFePO4 and Lithium Ion battery cells, producing lithium battery packs and providing battery solutions. Our products are mainly used in solar energy storage, electric bikes, electric scooters, electric motorbike, boats, forklifts, sweepers, golf carts, and recreational vehicles.
Contact Us