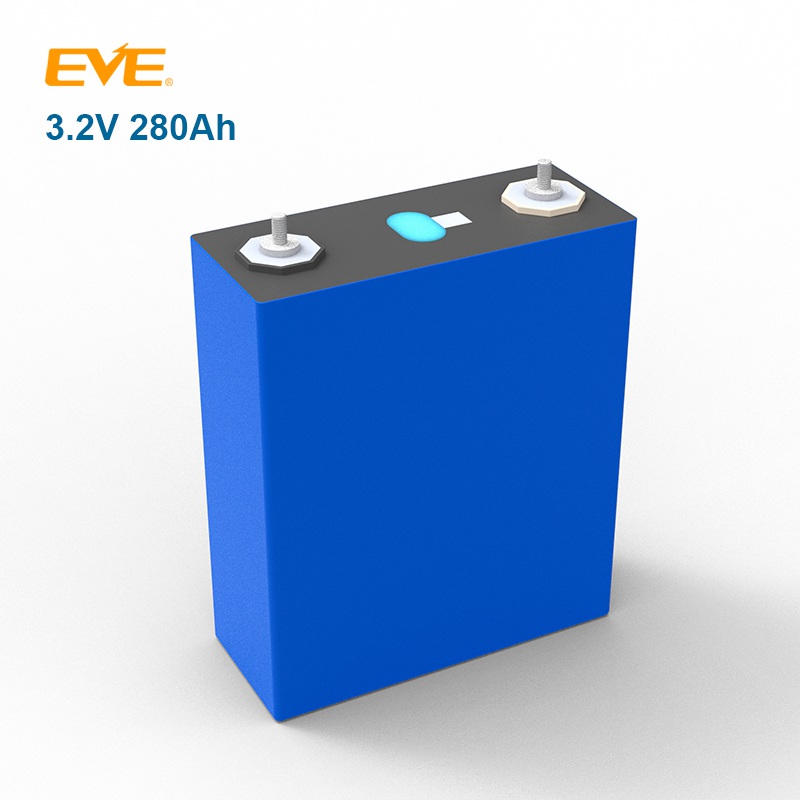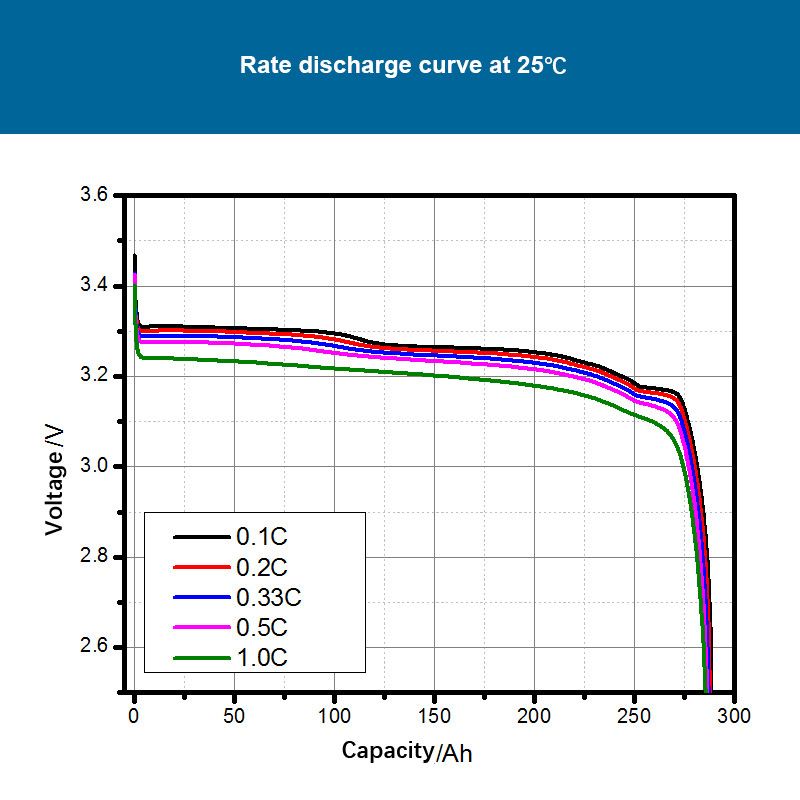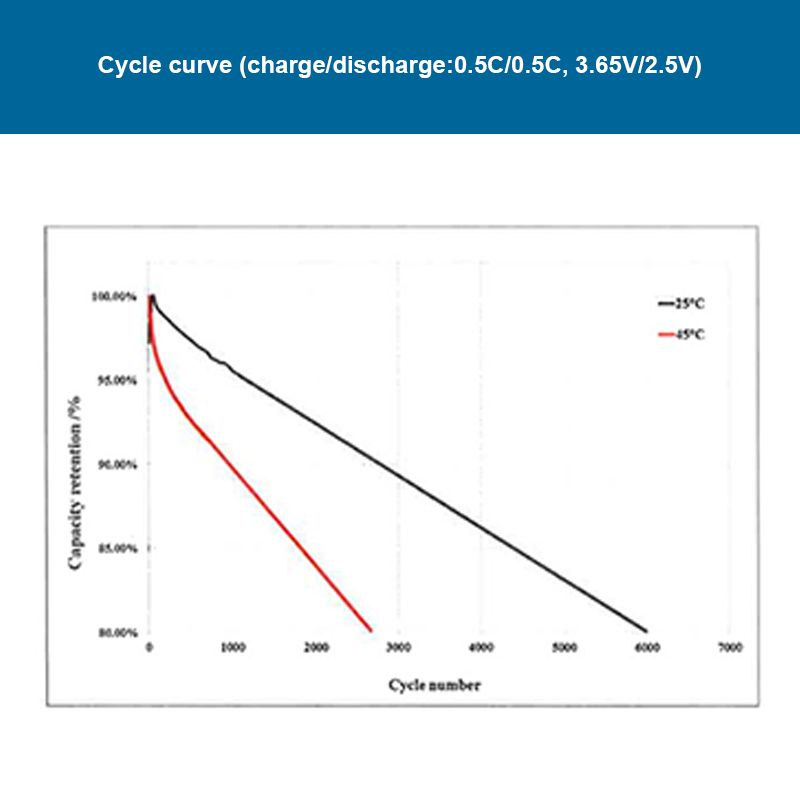 EU Stock EVE 3.2V 280Ah Rechargeable LiFePO4 Battery Cell
This is Final Price to your door, no extra cost.
Ships to European Union countries only from Warsaw Poland.
Shipping Zones
Shipping cost to different countries within EU is not same, please choose your Shipping Zone according to following table.
Shipping Zone 1:
Germany
Shipping Zone 2:
Belgium, Luxembourg, the Netherlands, and Austria
Shipping Zone 3:
Czech Republic, Denmark, Poland, France, Italy, Spain, Slovakia, Slovenia, Hungary, Portugal, and Sweden
Shipping Zone 4:
Ireland, Lithuania, Estonia, Croatia, Latvia, and Finland
Shipping Zone 5:
Romania, Bulgaria, and Greece
Cell Grade:
| | | | |
| --- | --- | --- | --- |
| | Grade ESS | Grade LSEV | Grade HSEV |
| Usage | Energy Storage | Low Speed Electric Vehicle | High Speed Electric Vehicle |
| Brand New | Yes | Yes | Yes |
| Full Capacity | 270Ah+ | 280Ah+ | 285Ah+ |
| Matched IR | Yes | Yes | Yes |
| Matched Voltage | Yes | Yes | Yes |
| Matched Capacity | No | Yes | Yes |
| Official Test Report | No | No | Yes |
| Match Standard | + | ++ | +++ |
| QR | B Mark | B Mark | Original QR |
Comparision of Various Grading Systems in the Market
Speculated

Official Grade

Grade B

B Mark QR

No Test Report

Cell Consistency: ★

Capacity Consistency: ★

Grade B

B Mark QR

No Test Report

Cell Consistency: ★★

Capacity Consistency: ★★

Grade A-

Intact QR

With Test Report (Ver.1)

Cell Consistency: ★★

Capacity Consistency: ★★★

Special Ver.

Scratched QR

No Test Report

Cell Consistency: ★★★

Capacity Consistency: ★★★★

Grade A

Intact QR

With Test Report (Ver.2)

Cell Consistency: ★★★★

Capacity Consistency: ★★★★

Gobel Power Grade

ESS

Capacity Consistency: ★

LSEV

Capacity Consistency: ★★

LSEV+

Capacity Consistency: ★★★

HSEV-

Capacity Consistency: ★★★★

HSEV

Capacity Consistency: ★★★★

Other Sellers' Grade #1
Grade B

Grade B

Grade A
/
Grade A+
Other Sellers' Grade #2
Grade B

Grade A-

Fake QR

Grade A
/
Grade A+
Other Sellers' Grade #3
Grade B

Grade A

Fake QR

Grade A+
/
/
Other Sellers' Grade #4
Grade B

Grade A+

Fake QR

/
/
/
* According to Gobel Power test, LSEV+ and LSEV cells have almost same performance, LSEV+ cells are just better than LSEV cells in appearance. We do not provide LSEV+ cells.
* Considering officially released intact QR cells with poorer performance, we decide to stop providing EVE ESS/LSEV grade cells after old stock sold out. We only provide HSEV cells later.
4 pieces cells per box. Order quantity must be multiples of 4.
Capacity tested before shipping to Poland.
If you need to order other spare parts such as BMS etc., you can order cells with spare parts together. Spare parts will be shipped from China by Fedex, UPS or DHL. Please choose Expedited Shipping method during checkout, then you only need to pay shipping cost for spare parts.
Specifications (Verified)
Gobel Power technician has verified the accuracy of following technical parameters according to manufacturer's data sheet. Gobel Power gurrantees the product is authentic.
---
Manufacturer:

EVE
Model No.:

LF280K
Typical Voltage:

3.2V
Typical Capacity:

280Ah
AC Impedance Resistance:

≤0.25mΩ
Life Cycle:

6000
Standard Charge/Discharge Current:

0.5C/0.5C
Standard Charge Cut-off Voltage:

3.65V
Standard Discharge Cut-off Voltage:

2.5V
Continuous Charge/Discharge Current:

1C/1C
Pulse Charge/Discharge Current (60s):

1C/2C
Recommended SOC Window:

10%~90%
Charging Working Temperature:

0℃~55℃
Discharging Working Temperature:

-20℃~55℃
Self Discharging Rate:
Short Term Storage Temperature (< 1 Month):

-20℃~45℃
Long Term Storage Temperature (< 1 Year):

0℃~35℃
Storage Moisture:

<95%
Cell Dimension:

207.5*72*173.7mm
Cell Weight:

5420g
Certification:

UL, MSDS, UN38.3, CE
Manufacturer Introduction
---
EVE Energy Co., Ltd. (hereinafter referred to as EVE) is a China-based company principally engaged in the development, manufacture and distribution of battery products. The Company's main products include lithium primary batteries, lithium ion batteries and electronic cigarettes, among others. Established in 2001, EVE was first listed on Shenzhen GEM in 2009 (Stock code: 300014). After 20 years of rapid development, EVE is now a global lithium battery company which possesses core technologies and solutions for consumer, power, IoT and renewable applications.
---
Sea Freight shipping for all batteries
Free Tax, we have paid tax for you
Spareparts can be shipped by UPS/DHL
Paypal
Credit Card
Bank Transfer
Wholesale or OEM?
Chat with Our Experts in WhatApp
---
Lifepo4 Zellen, 3,2V, LiFePO EVE 280ah, 6000 Zyklen
Brand new EVE 3.2V 280Ah Cell with original QR.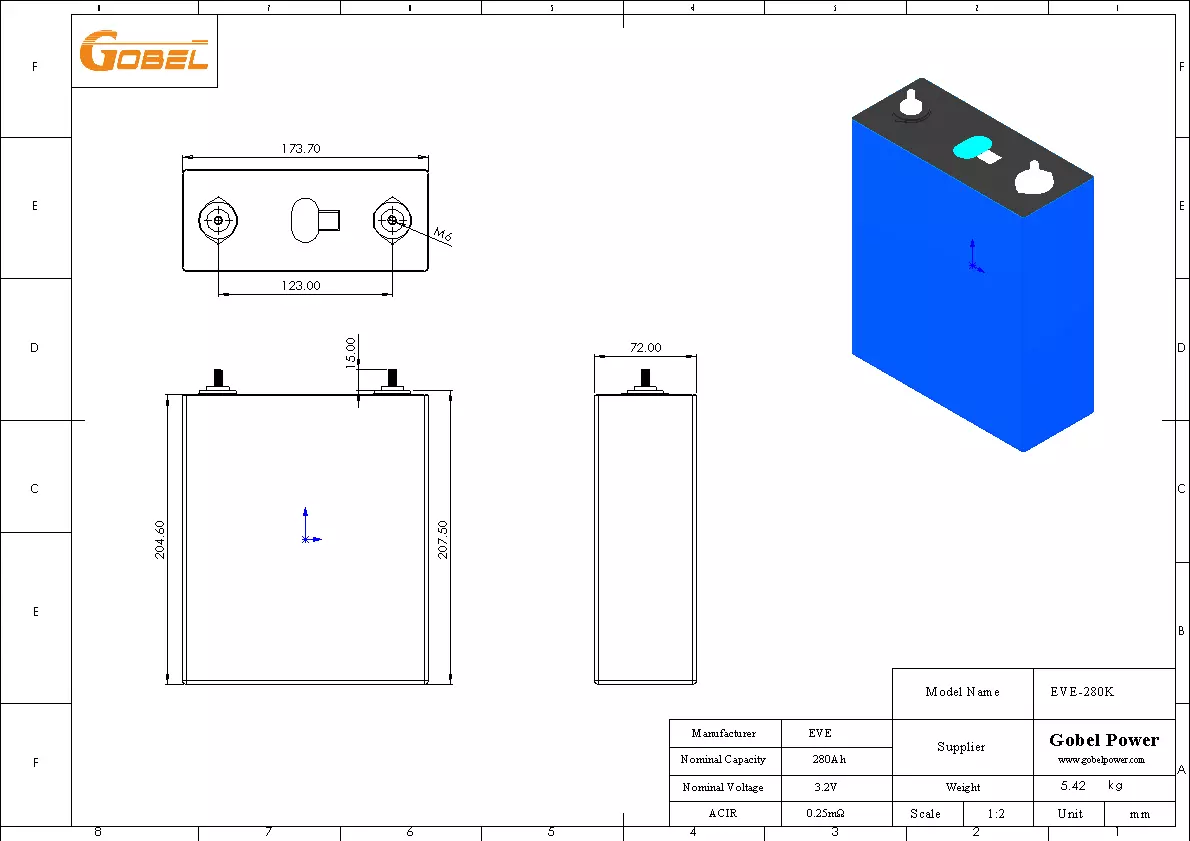 EVE 280Ah LiFePO4 Battery Cell CAD Drawing with Dimensions and Main Parameters
EVE 280Ah LiFePO4 battery cell is 3.2V LFP battery, widely used in home solar energy storage system, and it has been top choice for ESS DIY. This 280Ah lithium battery cell has 6000 max cycle life, long service life makes it suitable for diy powerwall.
The Eve 3.2V 280Ah LiFePO4 Cell - A High Performance Lithium Battery Option
Lithium iron phosphate (LiFePO4) batteries have become a popular choice for solar energy storage and other high performance applications. One of the leading manufacturers of these batteries is Eve Energy, who produces high quality LiFePO4 cells. One of their flagship products is the 3.2V 280Ah LiFePO4 cell, also known as the Eve LF280K.
This 280Ah Lifepo4 battery offers some distinct advantages over other lithium battery chemistries. LiFePO4 is known for its safety, stability, long cycle life, and high current rating. Eve's prismatic 280Ah Lifepo cells have a very low self-discharge rate and can handle both partial and full discharge cycles without damage.
The nominal voltage for the Eve 280Ah battery is 3.2V. However, the working voltage ranges from 2.5V when fully discharged to 3.65V when fully charged. These lifepo4 280ah zellen deliver 280 amp hours (Ah) of capacity and have a maximum continuous discharge current of 2C, or 560A.
The large format Eve prismatic cells can be configured into high capacity Eve lifepo4 battery packs up to the megawatt scale.
Eve's quality assurance and safety testing ensures their LiFePO4 cells meet the highest industry standards. Their LF280K 280Ah lithium batteries are optimized for long service life and can provide thousands of lifecycles when properly maintained.
For solar energy storage or other applications requiring deep cycle batteries, the Eve 3.2V 280Ah LiFePO4 represents an excellent choice. These high capacity eve lifepo cells outperform lead acid while offering increased safety and stability versus cobalt-based lithium ion.
When shopping for Eve's 280Ah batteries, look for authorized distributors selling genuine cells under the Eve brand name. Sources like AliExpress offer Eve lifepo4 280ah packs at discounted prices, but some vendors may ship lower-grade cells under the Eve label. Always verify the seller's reputation before purchasing.
With proper construction and battery management, Eve's 280Ah LiFePO4 cells can be configured into high performance solarbatterie 280ah systems. For renewable energy storage or electric vehicle applications, the Eve 280Ah battery delivers outstanding performance and longevity.
About Us
Gobel Power was established in 2012 and is based in Shenzhen, China. Our products and services include wholesaling cylindrical & prismatic LiFePO4 and Lithium Ion battery cells, producing lithium battery packs and providing battery solutions. Our products are mainly used in solar energy storage, electric bikes, electric scooters, electric motorbike, boats, forklifts, sweepers, golf carts, and recreational vehicles.
Contact Us